Choquequirao: Trek to Machu Picchu's Sacred Sister
Choquequirao is one of the most important Inca settlements found in the Cusco region, this enigmatic archeological site is similar to Machu Picchu because of its structure and architecture style, which is why it is often referred to as "Machu Picchu's Sacred Sister". Learn everything about this marvellous Inca construction, how to get there, and more!
Unquestionably, Cusco is the main tourist destination for many travelers that visit South America since these lands are full of ancient history, cultures, traditions, and natural wonders that have been preserved until the actual date. Two of the most significant attractions and activities in Cusco are the Quad Biking Tour and the Vinicunca Mountain
Click on any of the following links to be redirected to an specific part of the blog or simply scroll down to see the whole page:
If you love trekking and archeology as much as we do, then this is the perfect destination for you! Please continue reading and don't miss the opportunity of getting to know one of the most significant Inca citadels that will surely help you understand the culture and engineering work of this famous civilization.
Choquequirao: The Cradle of Gold
First, let's learn about this magnificent Inca site; Choquequirao is located in Santa Teresa district within the region of Cusco. This enigmatic ancient structure wasn't exactly discovered since, just like Machu Picchu, locals already knew about its existence but it wasn't until the 1970s that Choquequirao was properly explored and excavated.
This archaeological site has an area of 103,814.39 hectares, has an altitude of 3,033 meters above sea level, and it comprehends buildings and terraces distributed on different heights.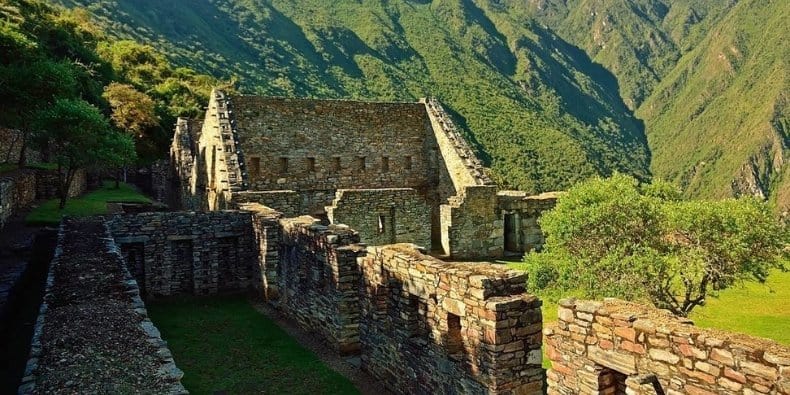 Its unique surroundings gather a great variety of biodiversity; the fauna in this location is mainly composed of condors, tarucas, vizcachas, foxes, skunks, pumas, hummingbirds, bears, and even more species that have been conditioned despite the drastic variations in temperature.
During the Inca era, this outstanding structure served as a cultural and religious center. According to previous research, this citadel was used as a checkpoint to ensure access to the Vilcabamba valley and Urubamba, which connected the jungle with other important centers such as Pisac and Machu Picchu.
Currently, only 30% of this Inca site has been excavated and preserved. Choquequirao is arranged in nine zones built as small villages around a large plaza:
Sector I: Upper main square, annex buildings and fountains (Hanan)
Sector II: Warehouses and Qolqas and "Giant stairs" of Bingham.
Sector III: Main square (Huacaypata) and annex buildings (Houses of the rulers and kallankas).
Sector IV: Temple of the triumphal wall and sacred corrals.
Sector V: Ceremonial Ushnu.
Sector VI: Temple of the priests.
Sector VII: Monumental platforms or sacred platforms.
Sector VIII: Platforms of the "Flames of the Sun".
After all this explanation you may be wondering how's Machu Picchu related to Choquequirao? Well, we got the information you've been looking for: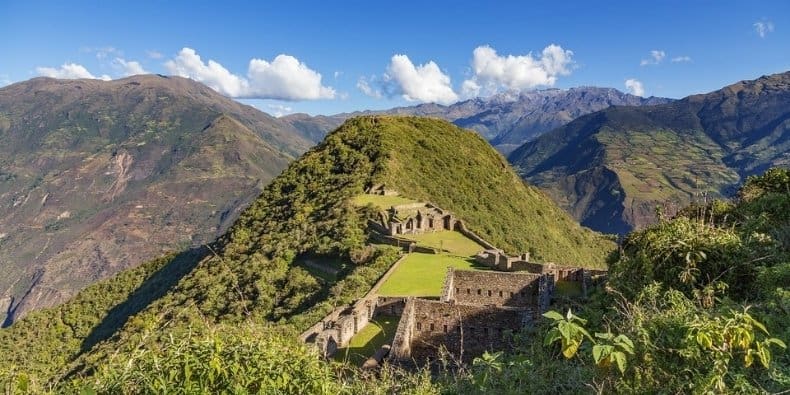 Choquequirao and Machu Picchu have many archeological similarities, such as having been organized into two halves: Hanan (high) and Hurin (low). Both archeological sites share a main purpose since it is known that they served as ceremonial fortresses.
Another important fact to keep in mind is that both locations were meticulously chosen, studied, and planned since both are surrounded by rivers, mountains, and glaciers which suggests a close relationship with water and fertility.
As aforementioned, Machu Picchu and Choquequirao were the most significant centers along with Pisac that ensured the access to the Vilcabamba valley, also these three enigmatic archeological sites were strategically designed to protect the main region of the Inca empire's settlements.
How to Get to Choquequirao?
To trek all the way to Choquequirao one must be in Cusco, which is easily accessible by taking a flight or a bus ride, here you'll have a few recommendations regarding how to get to Cusco:
By Flight: Currently, the airport in Cusco only operates commercial flights, which is why you'll need to get a plane ticket from any national airport to the Imperial City. This is the fastest way to get to Cusco, but also the most expensive.

Keep in mind that if you wish to take a flight from Lima to Cusco, you would be flying from sea level to an altitude over 3,000 meters, which is why we recommend you to rest for a few days in Cusco before doing any physically demanding activity.

By Bus: For most tourists, traveling through Peru by bus could be even more enriching rather than taking a flight anywhere, this way you can uniquely experience the best of Peru while going on the road. Taking a bus ride to Cusco will help you to acclimate your body since this is the recommended way to approach altitude.
Peru Hop's route along the coast towards Arequipa, Puno, and Cusco is one of the most recommended ways to discover the real Peru without missing anything on the way. We highly recommend this company for its safety, flexibility and travel experience since 2013.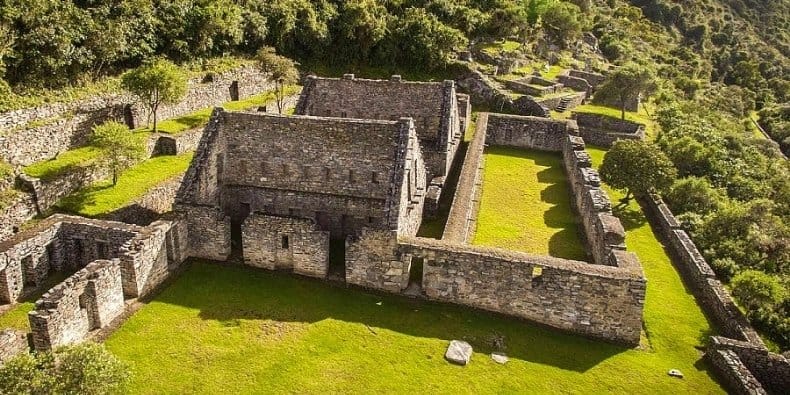 Once in Cusco, you will have to take a taxi or combi towards Cachora, which is only 160 km away from the Imperial City. From Cachora you'll need to make your way to Mirador de Capuliyoc, located 13 kilometers away from this small town. We highly recommend you to take a taxi to this location since it could save you time and energy.
The Mirador de Capuliyoc would be the starting point of the trail, usually the trek to Choquequirao lasts for 4 or 5 days depending on your physical condition. Although the archeological site is only 30 kilometers away from this location, constant zigzags and steep ups and downs stretch it out into a much longer trek.
The first official camping site is called Playa Rosalina, but if you feel up to the challenge you can continue towards the second camping site, which is Santa Rosa. It is worth noting that this could be a long distance to trek in a short time, but if you choose to do this, then you would have taken the longest part of your trip out of the way in one day, which could help you reach Choquequirao on the following day!
Some travelers even take this route to get from Choquequirao to Machu Picchu, making it the best trek alternative to this wonder of the world since you experience two of the most authentic Inca settlements in Peru.
To help you organize your trek to Choquequirao, here's a list of the official campsites within the trail to this archeological site:
Capuliyoc Campsite
Chikiska Campsite
La Playa Rosalina Campsite
Santa Rosa Campsite
Maranpata Campsite
Choquequirao Campsite
Cocamasana Campsite
Most of these campsites have shops, bathrooms, showers, and electricity, but If you are doing this trek on your own, we highly recommend you to be prepared for any inconvenience.
Keep in mind that for entering the archeological site, you must purchase the entrance fee that could cost up to 18 USD per person, most tour operators include this in the package.
If you wish to join a guided trek to Choquequirao, we recommend you to take the necessary time to compare prices, companies and quality since lots of tourists have been scammed in the past. Therefore, we encourage you to visit FindLocalTrips.com, a platform highly recommended to explore and compare tour and trek operators in Peru and South America.
Tips for Travelers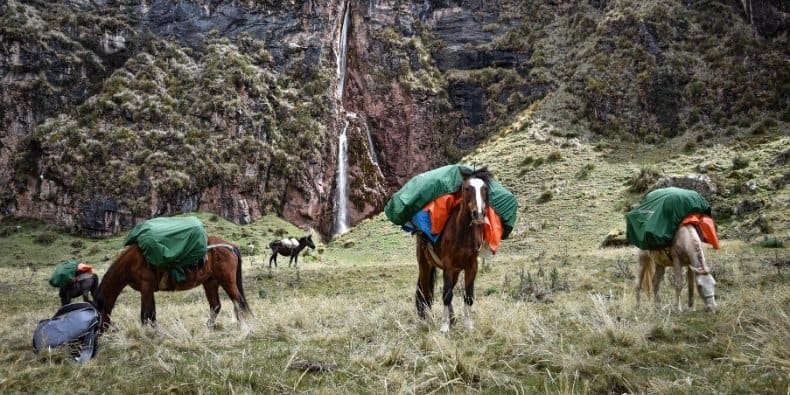 Even if you're an experienced trekker, we advise you to follow these useful recommendations to optimize your adventure to the majestic Choquequirao!
Acclimatize Your Body: Cusco is the main starting point for most tours and treks, the Imperial City of Cusco has an altitude of 3,399 meters above sea level, which is why we highly recommend taking at least 2 days to rest and get used to the altitude before committing to any physically demanding activity.

Drink Water: It is advisable to drink at least 3 liters of water a day, this will help you to keep yourself hydrated and avoid any symptoms of altitude sickness throughout your trip.

Bring Food and Snacks: If you're doing the trek on your own, make sure to bring the necessary food for your stay, as well as snacks for the way. Most tour operators include meals and kitchen equipment.

Protect Your Skin: One of the most important things to bring to the trek is sunscreen and mosquito repellent. The sun can be aggressive in these highlands, which is why we advise you to apply sunscreen every 40-50 minutes, as well as wearing sunglasses and a sunhat.

Bring Enough Cash: Make sure to bring enough Soles, the local currency, for expenses such as Choquequirao's entrance fee, transport, food or any other thing you may require.

Camping Equipment: Keep in mind that you won't be able to rent any camping equipment in the official campsites, if you're doing this on your own you can rent camping equipment such as tents, trekking shoes, trekking poles, and more, in the city of Cusco, there are different stores located within the historic center.

Be Prepared for the Rain and Cold: Make sure to bring warm clothes for the chilly nights and a raincoat just in case. If you wish to know what's the best time to go to Choquequirao, below you'll find a detailed section about the weather in this region.

Best Time to Visit Choquequirao

Annually, the region of Cusco experiences the dry and rainy season, which is why we recommend you to plan your trip accordingly to the weather conditions in this area.

The Rainy Season takes place between November and March, during this time of the year the weather changes drastically, but it isn't until february that the rainfall intensifies. If you want to do any trek during this season, keep in mind that heavy downpour of rain is expected throughout the whole region, which is why some tour and trek operators sometimes cancel their activities for safety reasons.

The Dry Season starts from April until October, meaning that the busiest time in Cusco is between June and August since it doesn't rain at all during these times. Although it is very unlikely to experience rain during this time of the year, temperatures can go below 0°C during the night and the highest could be 14°C during daytime.

It is worth noting that Cusco is one of those regions that must be experienced in either seasons, its natural landscapes change drastically giving you a totally different experience and visually striking spectacles that are totally worth seeing.

Unquestionably, Choquequirao is one of the most important archeological sites within the region of Cusco, which is why this is the main travel destination for most tourists in South America. Apart from history, Cusco gathers the most impressive natural wonders such as the Rainbow Mountain and the Red Valley, learn everything about these outstanding attractions while you're here.